I know I talk a ton about menu planning.   I truly believe it's the way to stay cool, calm and mostly collected when it comes to making dinner.
BUT, there are days/times/moments when it just doesn't work.
Maybe you've had an extra busy weekend shlepping kids around (yep, been there!), or you've had to work through the weekend (raising my hand for this, too...are you?), or (fill in the blank) happened.
It happens.
Life happens.
It happens to me, too.
Especially, during the back to school madness.  I don't know what it is about back to school that always seems to send everything into a tailspin.
Seriously, you'd think by now I'd be all chill about it.  And have it all together.  After all, this is my 16th year of back to school.
But there are times I scramble to plan out lunches.
And days where menu planning is a serious struuuuuugle.
So to help you get through the times when menu planning just isn't happening (because I'm right there with ya), I wanted to share with you the 5 ingredients I always have on hand.
These ingredients literally save my bacon when menu planning has gone out the window.
They'll get you over the hurdle, too, when you don't have time to menu plan.
Or don't want to cook what you planned.
Or you just need something easy because you really don't feel like cooking at all because you'd much rather binge watch Downtown Abbey.  Ok, please tell me you're excited about the movie!!   I've already bought tix and am going with some girlfriends, and I. can't. wait.
Ok, back to the ingredients.
Here are the 5 ingredients you should always have to make dinner supper easy.  And, of course, delicious, too.
And because it's Fall, I'm focusing on ingredients you can use to easily whip up a warm bowl of comfort.
Now, I'm assuming you have spices in your cupboard, so I'm not going to include them in the ingredient count this time around.  If you want to see a future blog post with my "must have" spices, I'd love it if you'd let me know in the comment section!
Stay tuned for more of this series!
And don't forget to tag me (#amenuforyou) when you make something with these ingredients!  I can't wait to see your creations!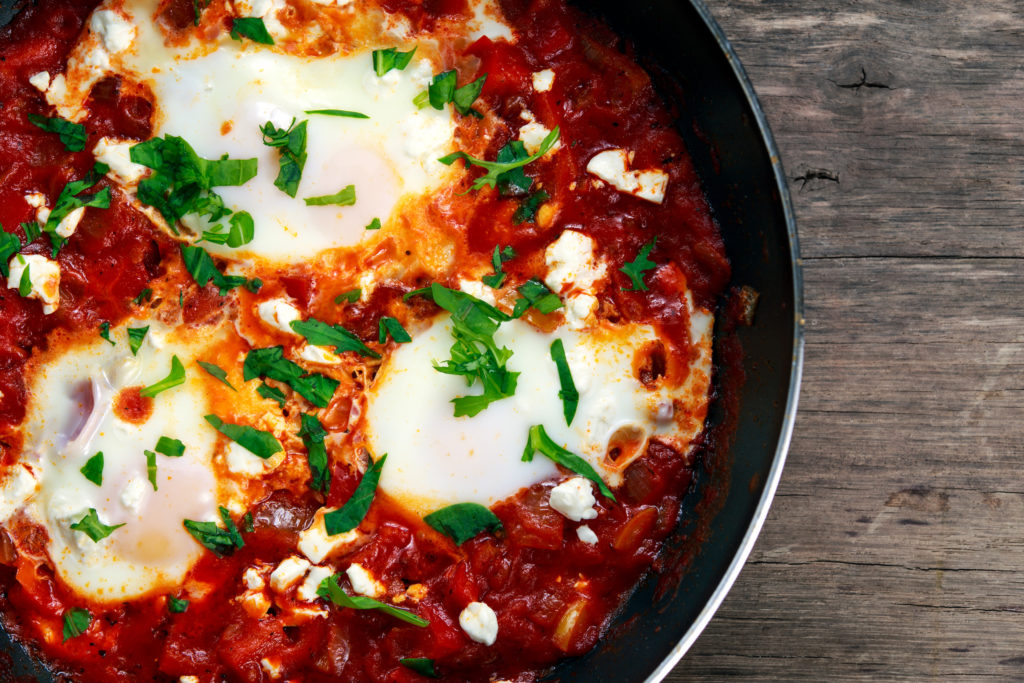 #1
Canned Tomatoes
I always have crushed, diced and fire roasted in my pantry.  Canned tomatoes are probably one of the most versatile pantry items.
You can make tomato soup, tomato sauce for pasta (and to simmer meatballs), add them to soups and chili, use them in enchiladas, make shakshuka (pic above: eggs in a spicy tomato sauce which is ahhhhmazing!!), braise meat in it.......the list seriously goes on and on, but I think you get the idea.
#2
Canned Beans
These are another incredibly versatile pantry staple.  I love black beans, cannelini beans and garbanzo beans, but go crazy and buy whatever beans you and your family love.
Soup, hummus (I've made with both cannelini and garbanzo and they were both delicious!), add them to chili, minestrone, puree them for dips, veggie burgers, and black beans are great in nachos, tacos and enchiladas.

#3
Rotisserie Chicken
When all my kids were home, I'd buy 2 or 3 at the grocery store, or 1 or 2 from Costco.  I'd break it down as soon as I got home to make it super easy to use for school lunches and quick dinners.
Shred up the breast and make chicken tortilla soup, sandwiches, enchiladas and tacos, nachos, chicken pot pie, chicken salad, baked pasta dishes, and add it to stir fry and curry.
#4
Frozen Veggies (corn, beans, carrots, etc.)
Eating seasonally is important because it's when veggies are the freshest (and most flavorful) and, usually, the prices aren't sky high.  But I always keep an assortment of frozen veggies.  Frozen vegetables are frozen at the peak of their ripeness, and it's nice to have frozen corn to add to a dish in the dead of winter when Summer corn is a distant memory.
Speaking of corn, add it to soups, stews, make succotash, sauté with other veggies for a side dish, make cornbread (the most perfect dish to serve with chili and winter soups).
Frozen carrots, broccoli and beans can all be added to soups and stews.  Frozen green beans make delicious green bean casseroles, frozen broccoli can be added to smoothies, pasta dishes or roasted with fresh Parmesan.
#5
Chicken (or Veggie) Stock
Homemade chicken and veggie stock is the.absolute.best.  I'll be posting my recipe to the blog soon, so stay tuned!  If you're buying, I highly recommend the "low sodium".  I find that most store bought broths are loaded with salt, and I like to have more control when it comes to salting and seasoning my dishes.
Chicken tortilla soup, chicken soup, avgolemeno soup, minestrone, chowder, the list literally goes on and on an on for the alllllll the dishes you can make with these stocks.
I prefer the deeper flavor of chicken stock to vegetable stock, but if you're a vegetarian, vegetable stock is an easy and delicious substitute for chicken stock.
Hopefully, these ingredients, and ideas for how to use them, get your creative and cooking juices flowing.
If all else fails and these are the ONLY ingredients you have:
Shred up the chicken (just the breast), and put it in your Instant Pot.  Add 1 can of tomatoes, 1 can of beans, 1 bag of veggies, generous pinch of salt and pepper, 1/4 teaspoon of crushed red pepper flakes and 2 teaspoons ground cumin, and add just enough stock to just cover all the ingredients. Cover and cook for 15 minutes on the Soup setting.  Taste for seasoning, and spoon into bowls.  If you have it, garnish with chopped cilantro (or parsley), and a dollop of sour cream.
If there's a dish you make all the time with any of these ingredients, I'd love to hear all about it.  Leave a comment below, so we can get that conversation started.
Questions about recipes? Or looking for ideas?  Pop me an email at lisa(at)amenuforyou(dot)(com) -- I'd love to help you out!
Like what you've read and want more deliciousness? 
Sign up for my free weekly newsletter and get recipes, menu planning tips and cooking shortcuts straight to your inbox.
Hungry for more info on how
you can get started menu planning?