Whether you're stocking up your pantry because it's a regular Thursday, or because of the coronavirus, I'm betting you're probably stocking up on one of the most popular (and versatile) pantry items.
Canned tomatoes.
You can make a huuuuuge range of recipes with canned tomatoes.
Marinara sauce, soups, stews, chili.
But when you want to spice things up, literally, don't forget to add Shakshuka to the lineup.
If you've never heard of Shakshuka, it's a dish that originated in North Africa. Tomatoes simmer away in spices, there's a whole lotta red pepper flakes (which you can easily use less of to control the spice without sacrificing flavor).
I love adding anchovy paste for extra umami, a generous amount of oregano and, of course a good sprinkling of Parmesan. Although, feta would also work really well!
Whether you serve this for breakfast, brunch or, my personal fav, brinner (breakfast for dinner — it's what my kids always called it when they were littles), this dish takes a simple can of tomatoes and turns the flavor volume from a 2 to 10.
Oh, and if you're feeling extra adventurous, sauté up some sausage or extra veggies (like bell peppers and zucchini), and add extra herbs (add fresh basil or parsley).
And, whatever you do, don't forget the bread.
'Cuz you're gonna want something to dredge across your plate to scoop up all the glorious sauce.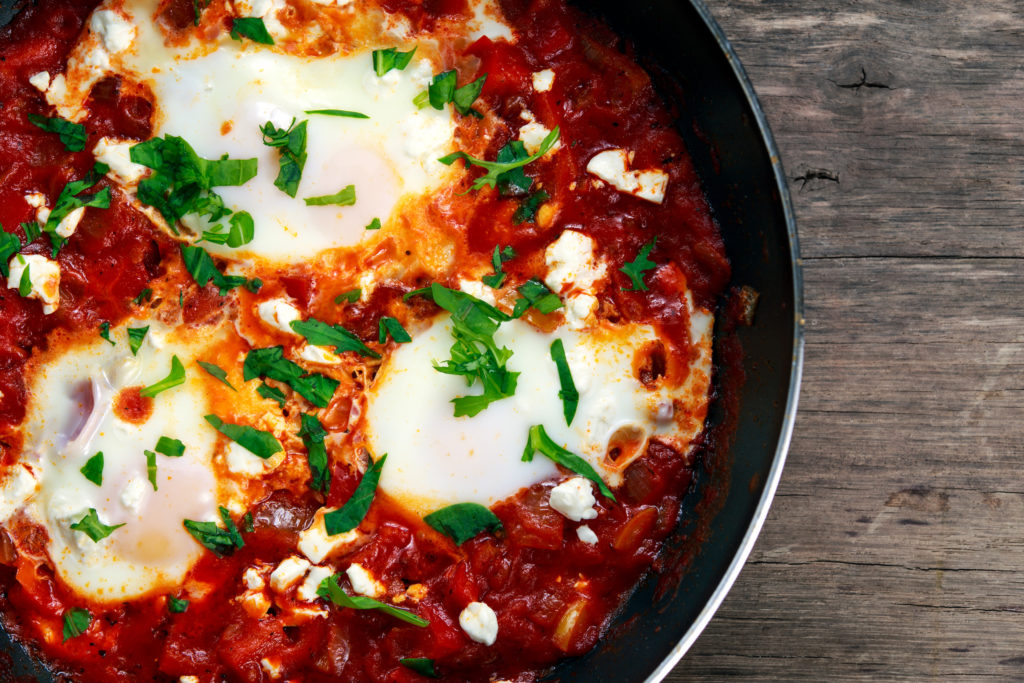 INGREDIENTS
3 tablespoons extra virgin olive oil, plus extra to drizzle on at the end
2 cloves garlic, peeled
½ cup flat-leaf parsley leaves, plus extra for garnish
1 anchovy filet, minced (or a ½ teaspoon of anchovy paste)
4 teaspoons fresh oregano
a pinch of crushed red pepper flakes
1 (28-ounce) can crushed tomatoes
Salt and Freshly Ground Pepper
4 large eggs (shown with 3)
½ cup grated Parmesan cheese, plus extra to garnish
4 slices of toasted country bread of your choice
INSTRUCTIONS
1
On a cutting board, combine garlic, parsley, anchovies (if using paste you will add that later), oregano and pepper and chop them all up together until they're finely chopped. Heat a medium skillet over medium heat. Once hot, swirl in the olive oil. When the oil shimmers, add garlic-parsley mixture to the pan and cook, stirring, about 2 minutes. If using anchovy paste, now is the time to add that and stir it into the mixture. Add tomatoes slowly and carefully (because they'll most likely splatter a bit when you add them), and stir to combine.
2
Lower heat to medium-low and simmer sauce for 10 minutes. Taste and season with salt, pepper and extra red pepper flakes (if you like things a bit spicy!)
3
With the back of a wooden spoon, make a small indentation in the sauce for each egg and crack them directly into the pan. Sprinkle the eggs and sauce with Parmesan and cover pan partially with a lid.
4
Let the eggs cook for about 5-7 minutes. You want the whites to be firmly cooked, but the yolks to be runny, so keep an eye and add a couple of extra minutes if need be.
5
When the eggs are cooked, drizzle entire pan with a little extra olive oil, then finish with more pepper, cheese and parsley. Serve immediately with toasted bread.